Pet Portraits
On Glass
Click here for more images

Famanimalies
Pet portraits Ours and Others


By Nancy L. Steinmeyer

To commission a Famanimalies style painting of your pet contact Nancy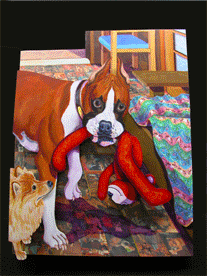 Is a series of mixed media painting exploring the relationships between families and their animals hence the name Famanimalies.
My husband and I met in 1991 while walking our dogs. Within a year we married and successfully combined his German Shepard mix, Brownie with my Doberman Pinscher, Mary Margaret and two cats, Orange Cat and Chutzpah. This was the beginning of happily ever after life-style including cat litter, dog dishes, birdseed and most recently horse necessities.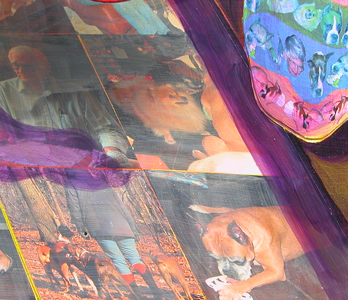 Subject Matter:
Mixed media paintings that reflected the personalities and memories of family pets. Creating portraits of our pets is a personal fun and sentimental journey.
Technique:
I have grown bored with rectangles. I like shape, any shape as long as it's organic and not a square or a rectangle. I also like space, actual physical space, as well as painted faux space. Some of this work is created on thin layers of painted wood, in other pieces I'm exploring the impact of life-size animals such as horses or a life size dog on a full size settee..

Also I like pattern. In some of my work I enjoy the repetition and the subtle surprise when the pattern changes or better yet when the pattern is telling a story all it's own. My intention is to create paintings of pets that also tell the story and give the history of how they fit into and or impact the family they live within. most of the patterns in my paintings are created by using photographs of pet or human members of the family. They are then manipulated through the use of the computer to create patterns and fabric, floors, tile or sometimes shadows.
Come Meet Some of my Pet Portraits
"On The Job" mixed media 17" x 24"
Click for details

Inspirational photo

Look for the brown and white bunny
and the black and white cat. They were
Orange's best friends.

"Head of the House" mixed media 35" x 28"
Click for details


Inspirational photo

Look for the cat faces in the background.
Can you see the German Shepard?

"Mighty Mouth" Mixed Media 28" x 20 1/2"
Click for details


Inspirational photo

The floor of this painting is a made of a series of 63 photographs of Trotzen's family (both people and pets).

"Dressed to Play" mixed media 37" x 37" Click for details


Inspirational photo

Detail of the couch

Life-sized cut out horse
Dancer", Painted Wood, 69"x 39"

"Smooch Me", mixed media , 23" x 28"




detail of running horse as the grass


Commission Portrait Scout,
mixed media, 23" x 23"


detail pattern of Scout and his Mom

Life-sized cut out horse
Maggie", Painted Wood, 71"x 27"

"Montanna" mixed media wood cut out

This commission is of the paint gelding, Montana, as a foal. The shadow he casts is of Montana being driven by his owner. Sadly this horse passed away at the age of two.

"Bed Buddies", mixed media wood cut out, 28" x 43"
| Nancy L. Steinmeyer, Artist -- Home page |
| Sept. 11th | | Memorable Moments | | Environmental Painting | | Paper People |
| Pet Paintings | | Pet Portraits | | Chatting with Nancy | | E-Mail Nancy | | Nancy News | | Resume |
| Artist's statement | | Technique and lectures | | Whining | |Ballet Cards |

ALL IMAGES ARE THE PROPERTY OF NANCY L. STEINMEYER

Copyright © 2003 Nancy L. Steinmeyer. All rights reserved.
Information in this document is subject to change without notice.
Other products and companies referred to herein are trademarks or registered trademarks of their respective companies or mark holders.

Last revised: June 09, 2013.
There have been 7202 visitors to this site since July 28, 2004